Xbox one and xbox 360s trade with good phone
Xbox one and xbox 360s / trade with good phone

The xbox one doesn't have adaptor...i have a xbox one and a xbox 360s 250 go for sale...250$ for both or trade with good phone only text please...
500 gig xbox one for sale or trade (with box)

Selling a 500 gig original xbox one with one controller and 14 day gold trial...obo (game trades maybe considered) send any offers to email, thanks...
Xbox one and xbox 360 kinects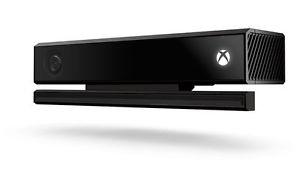 Microsoft kinect xbox one kinect $ plus tax x box 360 kinect $ plus tax come on down to amc pawnshop 577 sargent ave or give us a call at ( have a nice day:)...
Xbox live gold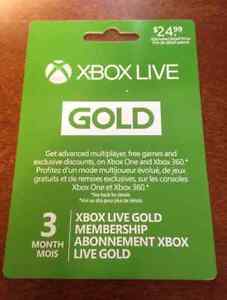 Can be use for xbox one and xbox 360....
Xbox one/360 games for trade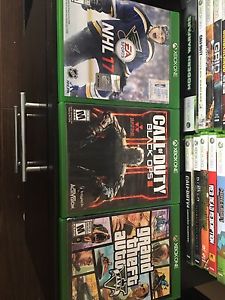 I have 34 xbox 360 games that never get played because i just bought an xbox one, i also have 3 xbox one games that i don't play that came with the xbox so i'm hoping to trade these for more xbox one games...
Xbox one plus cash for trade

Hello i have a xbox one for trade amazing shape everything with it and has brand new turtle beach headset and all cable hook-ups i am looking to trade it for a good computer i will aslo add cash if needed...
Xbox 360 bundles

Comes with a 30 day guarantee xbox 360s come with a hard drive, a wireless controller, av or hdmi cords, a power cord and a game of your choice...elite and arcades $90 for 20gb $100 for 120gb $125 for...
Looking to trade my xbox one and laptop for gaming pc tower

Both the laptop and xbox one the xbox one is 500gb comes with one controller, halo 5 and all hook ups...if anyone is interested in a trade please message me asap...i'm looking for a gaming pc tower...
Mint xbox 360 trade for a phone

I havs a black mint xbox 360 with all the cords and two controllers and a bunch of games looking to trade for a cell phone msg me with what u have thanks...
White xbox one and black xbox one elite controller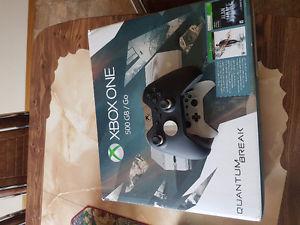 I would also trade for an xbox one s...i have a white xbox one with a black xbox one elite controller...text me if your interested and serious inquiries only...elite controller was originally $200, so...
Trade xbox one and games for nintendo switch

Looking to trade my xbox one day one edition with camera, two controllers and 10 games for a nintendo switch and games...
Xbox one for sale or trade for ps4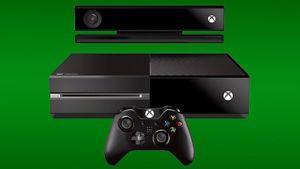 I have a xbox one 500gb that i dont use any more, like new comes with connect and 3 games, forza horizon 2, forza 5 and need for speed would trade for a ps4 to play with my friends, only reason for selling...
Xbox one s limited edition trade for nintendo switch with

Looking to trade my limited edition military green xbox one s with 3 games for an nintendo switch with a game...
Xbox one and many awesome games!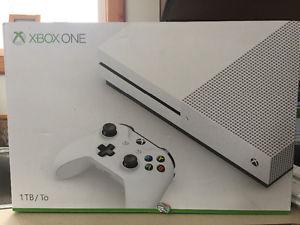 xbox one - 1tb, 4k video streaming, plays some 360 games...trade in value of games at eb approx...games: battlefield 1, bioshock the collection, nhl 17, mafia 3, halo 5, star wars battlefront, guitar hero...
Xbox one and iphone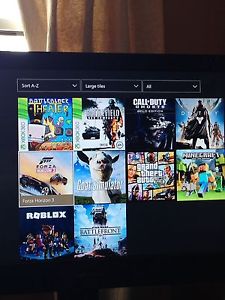 Brand new xbox one just bought about month ago works perfectly fine...looking to trade them both for a car of some kind...comes with a ton of games and extras...has an account i bought with tons done on...
Willing to trade for a ps4 or xbox one and cash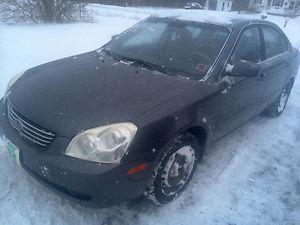 Selling my car for 900 firm, or trade for a newer system and cash, car needs 2 front struts and a rear caliper on the right side...send an email if interested, or if you want to see the car, great car...
Excellent condition iphone 5s for trade with android phone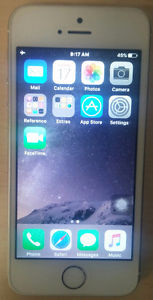 I'm looking to trade a very mint condition iphone 5s for a recent and good condition android phone...i both can pay extra cash or get cash on top if you have a phone in a higher/lower price range...
Htc one m9 $75 or trade for other phone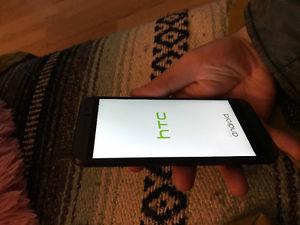 Will sell for $75 or trade for a phone of equal value...i have a htc m9, body is dinged up and camera isn't working but screen and the front of the phone is perfect and phone works great...
Looking to trade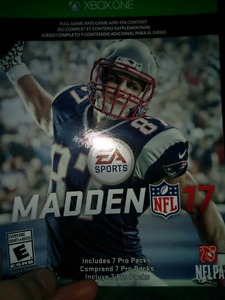 I got a new xbox one and got this game inside with it i do not play these type of games and i like to get grand theft auto v for a trade or 40$ bucks for it...
Xbox one and samsung system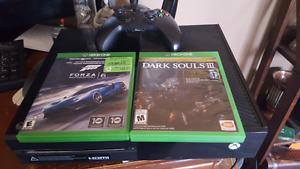 xbox one $225 and samsung system $60 or all for $250 may trade towards a 55" of bigger tv or a ride on mower...
500gb xbox one and controller

500gb xbox one comes with one controller and all cords...no games the xbox is in perfect working order...220$or best offer...and it's freshly formatted ready to be used...
1tb xbox one s, xbox wireless controller& gears of war 4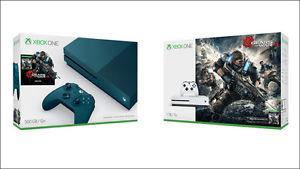 I have won this xbox one and currently own one, so i want to sell it...its brand new in the box not opened...please dont respond unless willing to pay that price...retail price is at best buy and wallmart...
Xbox 360 hdmi cable (brand new)

I bought the wrong one, i have a xbox one and by mistakenly bought the one for xbox 360...it's brand new, an still in package...purchased with 45$ so selling at 35$...
Xbox one and games

500gb xbox one comes with a controller, hdmi, and power chat headset...i'll also through in madden obo text or email...comes with nba 2k16, rainbow siege, and dying light...
Wanted: xbox 360 - good deals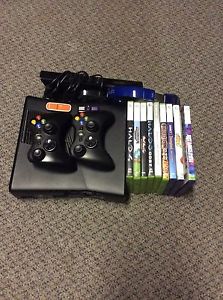 Dre - $150 bought an xbox one and don't need a 360 anymore...xbox controllers, 2 32gb usb sticks, sick games, a kinect and beats by dr...
Wanted: xbox one games for sale/trade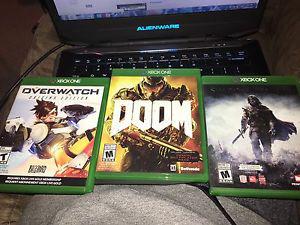 Overwatch $45 doom $30 middle earth shadow of mordor $20 open to trade offers...
Xbox gb
Got xbox one and don't play it as much...selling xbox 360 with 14 games could include black ops 1st one if you'd like it...second owner got it from a friend works great, it will revv up it has been like...
Logitech g920 racing wheel shifter included for xbox one and

If you want to contact me by phone please text...it works great with no issues...i'm looking to sell my logitech g920 racing wheel shifter included it's only has about 5hours on it...
Xbox one and games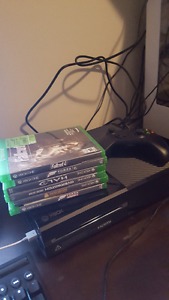 Selling my xbox one and games, bought it not even 2 years ago but hardly ever used, comes with following games: fallout 4 forza motorsport 6 halo: the master chief collection guitar hero live forza horizon...
Xbox one and 43" toshiba lcd tv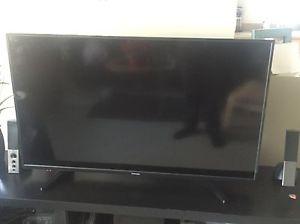 one game (for honor), one controller, one headset, everything in excellent condition...selling my xbox and 43" toshiba lcd tv...$300 for the xbox and game, $300 for the tv, or $570 for everything...
Did not find what you're looking for? Try again