Marshall valvestate combo amp
Marshall valvestate combo amp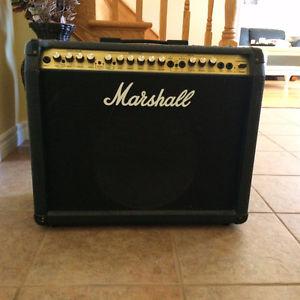 This is a marshall valvestate amp...great sounding amp...the amp has 2 channels and an effects loud...the amp works great and the pots were just cleaned...it is a solid state amp with a tube pre-amp that...
Marshall valvestate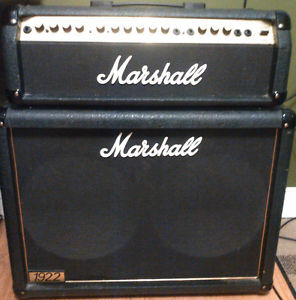 marshall valvestate w head and a marshall cab...i had the amp head rebuilt about 5 years ago at long & mcquade and its a demon...reason for selling, i never get to play it anymore, and it should go to...
Marshall haze 40 watt combo amp w/roadie travel case

Compact, powerful amp! marshall haze 40 watt tubed combo amp with road travel (hard) case...preamp valves: 3x ecc83 -power amp valves: 2x el34 -channels: 2 (clean/overdrive) -speaker: 12" celestion g marquee...
Marshall valvestate head and 4x12 cab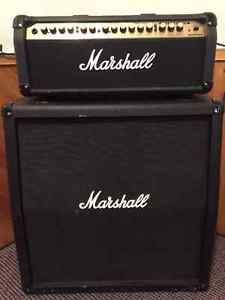 marshall valvestate vs 100 head and mgx12 slant cab, 120w rms 8 ohms made in england...$ ian: cell (text / call - leave a message)...in good shape - all working, very good sound...
Marshall valvestate wanted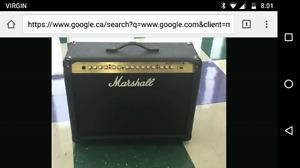 Im looking for marshall valvestate ! let me know what you have!...
Paul reed smith, mesa boogie, marshall, gibson gear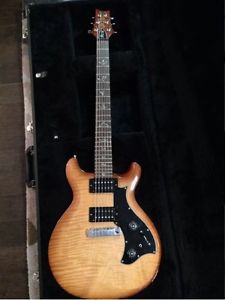 marshall tslx12 combo amp...$700 marshall a lead 4x12 cabinet...$400 marshall x12 cabinet with vintage 30's...$750 marshall jcm watt dual reverb head...$400 epiphone korina explorer (ebony)...
Marshall as50d acoustic amp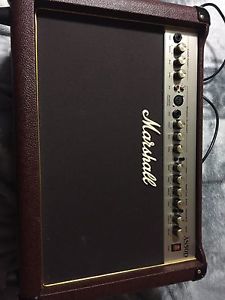 Selling my marshall as50d acoustic amp mint condition call or text...
Tech 21 bronzewood 60 acoustic combo amp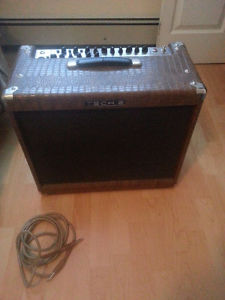 Tech 21 bronzewood 60 acoustic combo amp...com/amplifiers-effects/tech-21-bronzewood-60-acoustic-combo#productdetail...missing the number "1" in the name on the front) but built like a tank and works perfectly...
Hughes & kettner pure tone combo amp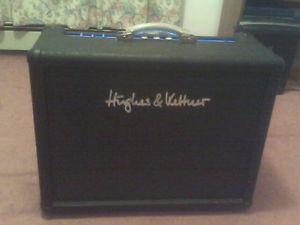 H & k pure-tone 1x12" combo amp, in excellent condition, recently checked out at brit fader amps, el-34 power tubes replaced, would trade for lower watt amp of equal quality & condition...
Fender acoustasonic junior dsp combo amp with effects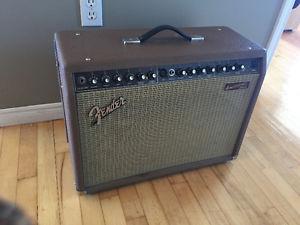 Great combo amp for guitar/vocals...a few minor marks, works great...
Looking for small to medium mesa tube combo amp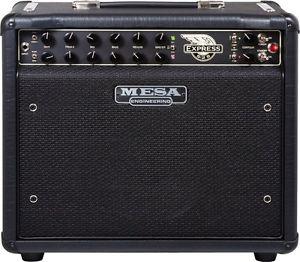 Looking for small to medium mesa tube combo amp preferably one that has 5watt option let me know what you got i can trade for a gibson les paul with ohsc and candy...
Line 6 spider iv 120 combo amp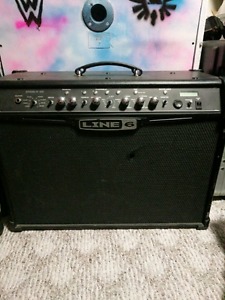 Line 6 spider iv 120 combo amp 120 watts is definitely enough for any practice space or show that you want to play...comes with a channel switching pedal! long and mcquade information - https://www...
Marshall jcm combo

marshall jcmx watt combo excellent amp great condition a lot of amp for $700...
Marshall ma 100c

It is a 212 combo with 2 channels,has a few nicks in the tolex...this is a very underrated amp, has very nice cleans and awesome marshall growl...this amp can get very loud, lots of cool tones can be had...
Marshall avt tribute-100 watt combo amp

A marshall combo amp-100 watts-tube driven-very nice sounding-lots of effects-4 channel footswitch included!!in mint condition!!lots of power!!a must have for guitar players!!good price!!serious enquiries...
Taylor accoustic and marshall amp combo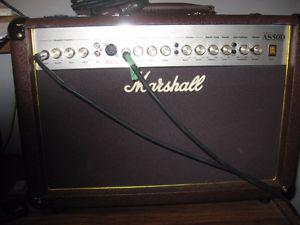 414ce taylor accoustic/electric(comes with case) and marshall as50d accoustic amp...all idem's kept in very good shape...
Marshall ma100c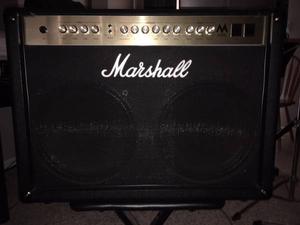 Qr code link to this post marshall 100 watt all tube 2x12 combo amp mint condition as seen in pictures $600 obo thanks for looking...
"boogie" lonestar 12 inch combo amp.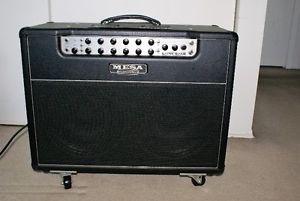 Bias switch allows marshall tubes to be used for a completely different sound...very versatile two channel pro level unit...foot pedal and cover included no trades thx...10 watt, 50 watt and 100 watt switch...
Marshall jvm410h tube amp head

The amp is $ + tax new...100 w guitar tube amp head in like new condition...the amp hasn't been gigged and it's in great condition...comes with footswitch, power cord, original amp cover, and manual...
Guitar amp speaker - watts - 4 ohms - works great!!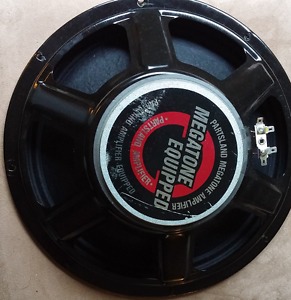 Removed from a guitar research t60r amp (the amp was converted to a head that now uses a 15: speaker) specs from the amp: full tilt tube tone in a super affordable combo amp! this closed-back combo takes...
Marshall guitar amp (45watt)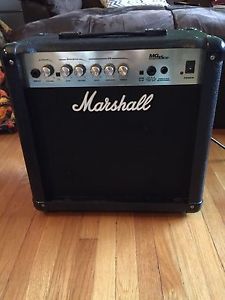 45 watt marshall mg series amp...good condition perfect for practice room or beginner guitarists...
Marshall dsl40c combo w/ vintage 30 and extra tubes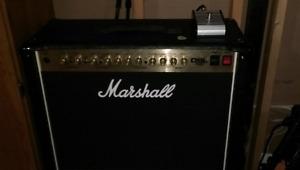 Great marshall sounds! at least as good as the old dsl50's...sounds just right...will even throw in an extra set of el34's for asking price...got on a trade and already gave too many amps...
Marshall mg50dfx amplifier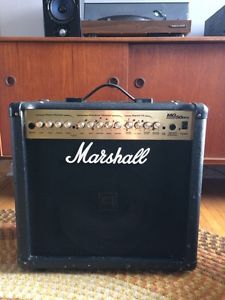 marshall mg50dfx guitar amp...few small rips in the tolex...
Marshall sl5 tube amp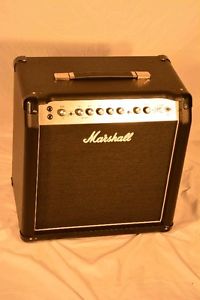 Slash signature practice amp...this is a tube amp...mint shape like new...
Line 6 spider iv combo amp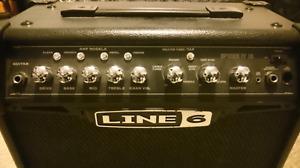 Line 6 combo practise amp 15 watt spider iv hardly used, original owner, comes with iec $75 obo - cash only...
Guitar amp crate glx-live effects

This amp has never left my house...the full-featured 3-channel crate glx-watt 1x12" combo amp with effects dishes out 65w into a 12" speaker...it features 16 digital effects with channel tracking that...
Traynor custom valve ycv80 combo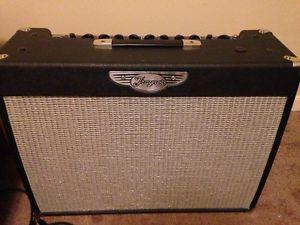 80 watt combo amp...will trade for a cab...
Bugera infinium 2x12 combo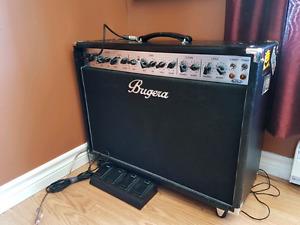 Bugera infinium 2x12 combo amp up for grabs...heavy lead channel, clean channel, and crunch channel...been used as my main rig for over a year now...price isn't set in stone...
Fender m80 combo amp with fender 12"extension speaker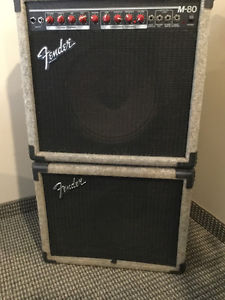 Fender m80 combp amp with fender 12" extension speaker in very good condition...2 channel, reverb, powerful and lightweight...
15 watt tube combo amp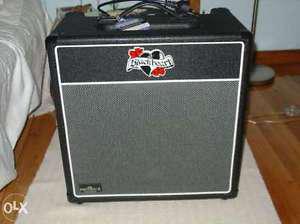 This amp really sounds good...blackheart handsome devil...has the option of going to half power for closed in quarters with just the flip of a switch...only selling because i have more amps than i need...
Did not find what you're looking for? Try again